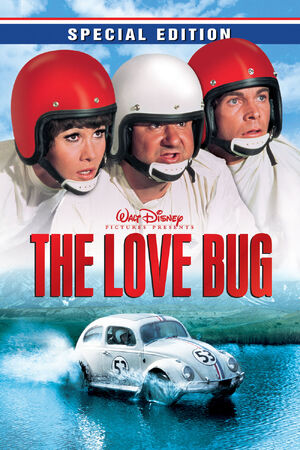 The Love Bug is the first film of many in the Herbie series. It was released in 1969 by Disney at a world grand premiere at the Graumanns Chinese Theater in Hollywood. It was the highest grossing film of that year.
Plot summary
Edit
The film opens with several shots of racing cars crashing into each other on various racing circuits. It is soon revealed that each car responsible for each crash was being driven by Jim Douglas. After discovering that his friend Tennessee Steinmetz has cut up his Edsel, he heads down to a car agency owned by Peter Thorndyke. There, he discovers a pearl white Volkswagen Beetle, which has recently been returned to the agency due to driving difficulties.
Jim soon leaves the agency and is followed home by the car, which we discover has a mind of its own. A policeman arrives at Jim's house the next morning, who believes Jim stole the car. It is at this point that Jim notices the car parked in his driveway, and is curious as to how it got there. He feels as though Thorndyke has tricked him into purchasing the car, and eventually decides to buy it. When Jim drives the car onto the freeway, the car sees the size of the trucks that are travelling along the road and takes control in fright.