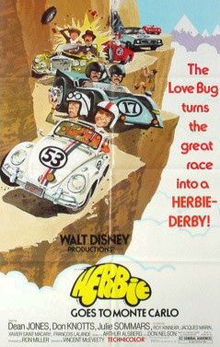 Herbie Goes To Monte Carlo
is a 1977 Disney movie, and the third film for
Herbie
, the white 1963 Volkswagen
Beetle with a mind of his own. Dean Jones comes back for the role of champion race car driver Jim Douglas, and is joined by his riding mechanic Wheely Applegate (Don Knotts). Together with H erbie, they enter the inaugural Trans-France Race from Paris to Monte Carlo. But Herbie gets the love felling that he puts on people on Diane Darcy's (Julie Sommars) car. And also Herbie has to defeat Bruno von Stickle (Eric Braeden) and the two thieves Max (Bernard Fox) and Guincey(Roy Kinnear) who put the [[Etoile de Joie]] in Herbie's gas tank. This Movie is fun for the whole family and now The Love Bug turns the great race into a Herbie-DERBY!
The lake that Herbie splashed into in the movie is the same one that Herbie leaped over in The Love Bug
This is the first time that Herbie falls in love.
Herbie does not have the VW logo on his hood but has it on his tires.