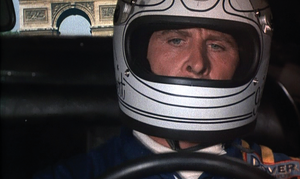 Claude Gilbert is a character in Herbie Goes to Monte Carlo.
Role in the film
Edit
Claude is a French race driver who drives a black and white striped De Tomaso Pantera with the number 66 on the hood. He is often seen beside or talking to Bruno von Stickle who too shares his opinions about Herbie and is determined to win.
Eventually, during the final stages of the race, he crashes his car into a haystack and is last seen watching Bruno and Herbie pass him heading for Monte Carlo.