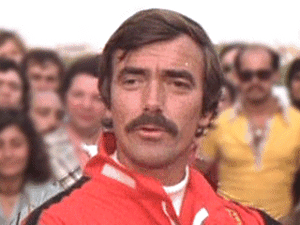 Bruno von Stickle is a character in Herbie Goes to Monte Carlo.
Role in the film
Edit
Bruno is a dark-haired, mustached German driver with experience in the "European Racing Circuit". His car is a powerful Porsche 917 clone painted in the colors of the German national flag, and bearing the number 17. He is deemed to be a formidable contender prior to and during the race.
In fact, as referred in the movie, the kit car is a Lazer 917 GT coupé with numerous components including the engine and chassis from the Beetle.
Bruno's last word "Schwein" after being beaten by Herbie is the German word for "Pig" or "Swine".